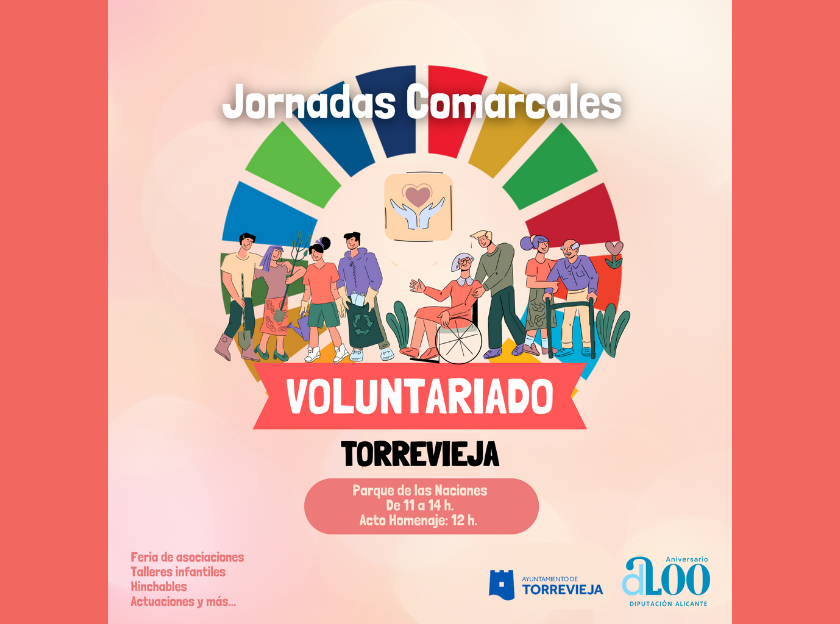 The Provincial Council of Alicante with the collaboration of the Torrevieja City Council, organizes the Regional Volunteer Days 2023, which will be held next Saturday, March 4, in the Parque de las Naciones, from 11:00 a.m. to 2:00 p.m., and It will have the participation of almost 20 Torrevieja associations and several NGOs from other towns in the province of Alicante.
The objective is to publicize the associative activity of the entities and organizations of Torrevieja and the region to the citizens, as well as to promote associationism and volunteerism as a key tool in the construction of a good society.
The Provincial Council of Alicante will make the tents available to the associations, as well as a family leisure area, with bouncy castles, workshops, games, exhibitions, etc.
OBJECTIVES OF THE REGIONAL VOLUNTEER WORKSHOP:
-To publicize the associative activity of the entities and NGO's of our province to the citizens.
-Promote associationism and volunteering as key tools in building a good society.
-Promote, foster and enhance the associative fabric.
-To bring the channels of voluntary participation closer to the public, so that each person can act within the scope of their preferences.
-To promote voluntary initiatives in the different areas of volunteer intervention.
-Promote social and institutional recognition of volunteer work.
-Carry out a creative activity, as an exemplary milestone, through citizen participation.
-Offer a space for recreation and leisure to the population that favors rapprochement and relationships.
LIST OF TORREVIEJA ASSOCIATIONS REGISTERED FOR THE DAY OF MARCH 4:
- ASSOCIATION OF UKRAINIANS OF TORREVIEJA
- SOLIDARITY FOOD
- GET CLOSER TO ROMANIA ASSOCIATION
- LCCR (ROMANIAN LANGUAGE, CULTURE AND CIVILIZATION COURSE IN TORREVIEJA)
- ASSOCIATION WANTS T
- ASIMEP
- AFFECT
- TORREVIEJA AND SURROUNDINGS DONATIONS ASSOCIATION
- AFA
- ASYLA
- ATIS ASSOCIATION
-AGE CONCERN COSTA BLANCA
- RED CROSS
- ALICANTE ASSOCIATION FOR THE FIGHT AGAINST CANCER TORREVIEJA
- CIVIL PROTECTION
- APANEE