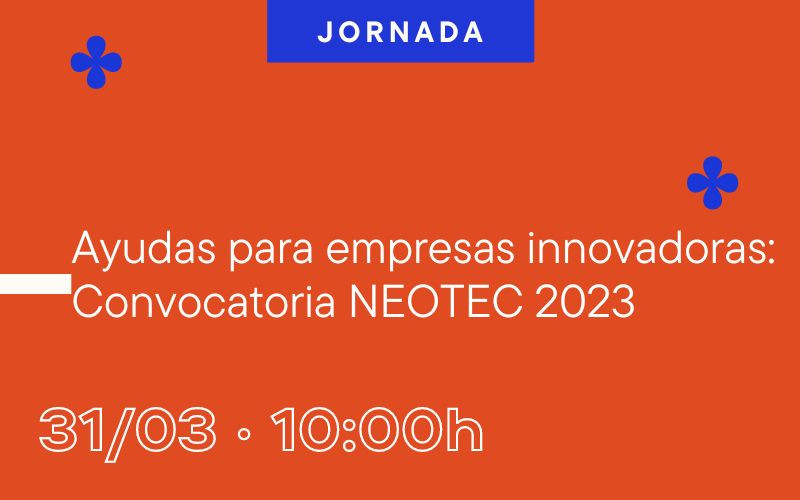 CEEI VALENCIA, IVACE, CEV and REDIT organize this informative conference on initiatives to support innovative entrepreneurs and SMEs. CDTI will present the new NEOTEC 2023 call and will meet with attendees who previously request it to resolve general questions about it. Friday, March 31, 2023 at 10:00 a.m. in the CEV Assembly Hall, C/ Hernán Cortés, 4, 46004 Valencia.
The 2023 call for the NEOTEC Program, this year has €40,000,000, with which the Center for Industrial Technological Development (CDTI) will support new business projects of innovative companies in which the business strategy is based on the development of technology own, in any technological and/or sectoral field.
Addressed to:
Entrepreneurs, startups, technology-based companies, innovative companies and business support agents.
Programming:
10:00 - 10:15: Presentation of the conference
Elisa A. del Río, director of the CEV Technical Area
Gonzalo Belenguer, CEO of REDIT
Ramón Ferrandis, General Director of CEEI Valencia
10:15 - 10:45: NEOTEC call and other news in CDTI programs
  María José Tomás, dept. Institutional Promotion and Territorial Cooperation of CDTI
10:45 - 11:15: Experience of Valencian companies in NEOTEC
ARKADIA SPACE, Francho García, Co-founder & CEO
TRANSKRIPTORIUM AI , Luis Antonio Morró, CEO and Partner
PRIME BIOPOLYMERS , Manuel Suárez, Director.
11:15 - 11:30: Discussion, comments and questions
11:30 - 12:00: Coffee Networking + Individual meetings with CDTI for general questions
For more information about registrations I send the link to the original portal.