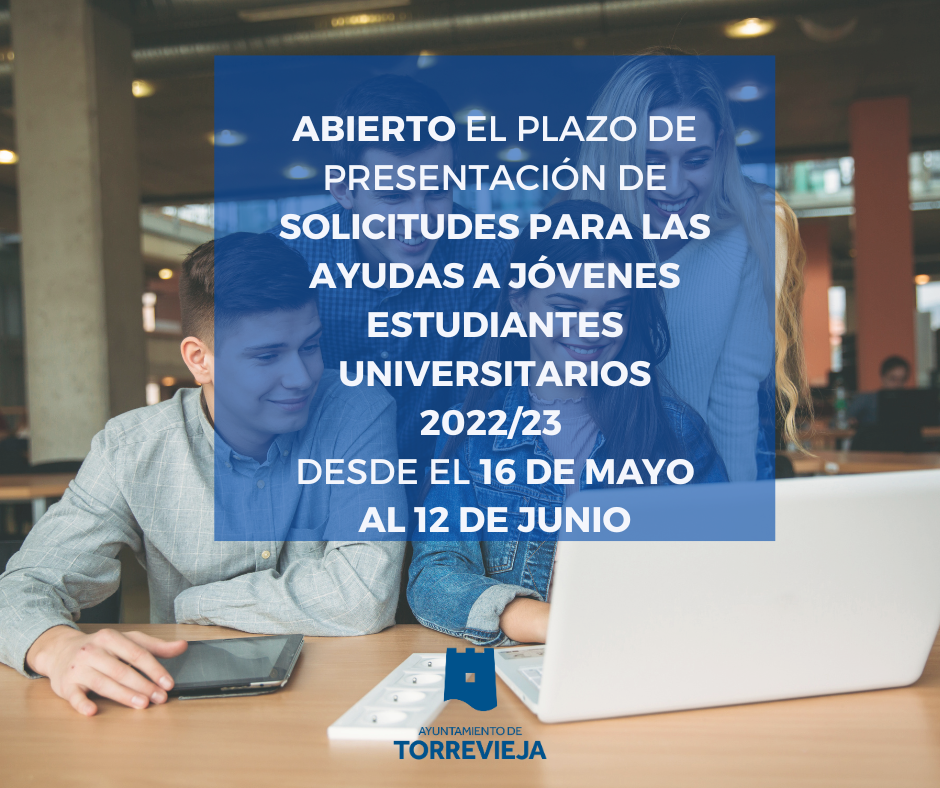 Object:
The purpose of these Bases is to regulate the procedure for granting aid, under a competitive concurrence regime, to finance the current tuition, textbooks and transportation expenses for the 2022/2023 academic year of those students who meet the conditions indicated in the Base Fifth.
Requirements:
These aids may be requested by any resident of Torrevieja, who has a maximum age of 35 years and who is studying one of the courses of the Spanish university system adapted to the European Higher Education Area leading to official Bachelor's degrees, or equivalents, and official Master's degree.
The rest of the requirements that the beneficiaries must meet are established in the Fifth Base of the call.
Amount:
The maximum aid to be granted will be up to €1,500.
The indicated amount corresponds to the maximum amount that can be paid to the beneficiary after justification of the expense made. In no case may the amount of aid be greater than the amount of the expenses justified by the beneficiaries.
Submission deadline:
The deadline for submitting aid applications will be 20 business days from the opening of the same. The opening of this period will take place the day after the publication of the extract of this call in the BOP.
Place of presentation:
Applications will be submitted in person at the General Registry of the Torrevieja City Council or electronically through the Electronic Office of the Torrevieja City Council, in attention to the right of natural persons to interact with the administration in the way they wish (electronic format or paper, depending on your preferences).
Documentation to submit with the application:
The application will be accompanied by the documentation indicated in the Tenth Base of the call.
Consult the Bases and the rest of the requirements of the call.