Representatives of the Complutense University of Madrid (UCM), the General Foundation of the University of Alcalá (FGUA) and the University of Alicante -Dept. Agrochemistry and Biochemistry and the University Institute for Tourism Research (IUIT) - will attend to the media about the enhancement of natural resources to advance a sustainable economy with high added value for the city of Torrevieja.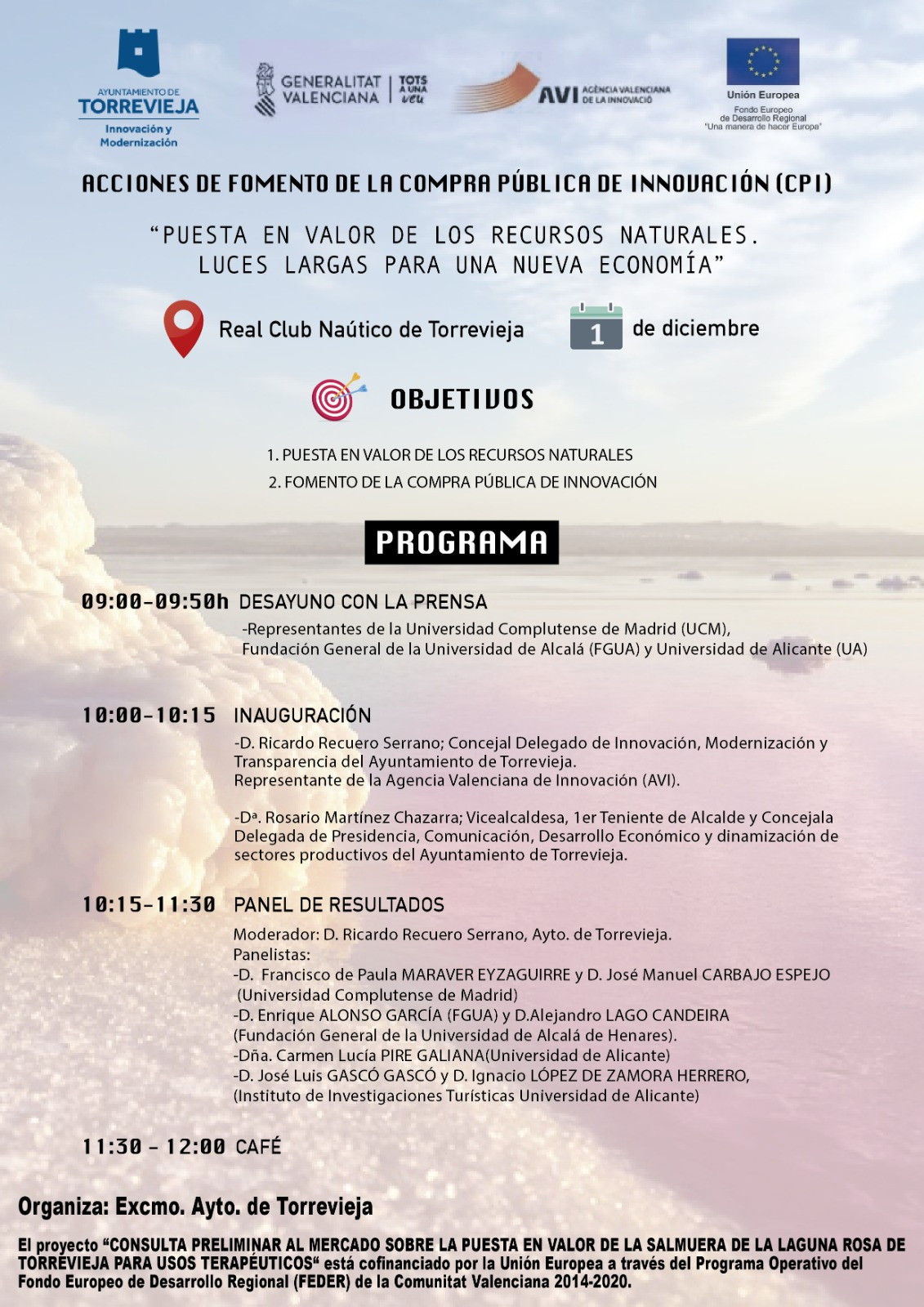 The Torrevieja City Council obtained help from the Valencian Innovation Agency (AVI) in the January 2021 call for the 2021-2023 period, within the "CPI-L2 promotion of Public Procurement of Innovation" program, for the project "PRELIMINARY CONSULTATION TO THE MARKET ON THE VALUE OF THE LAGUNA ROSA DE TORREVIEJA BRINE FOR THERAPEUTIC USES ".
The day PUTTING IN VALUE OF NATURAL RESOURCES. LONG LIGHTS FOR A NEW ECONOMY is held within the framework of the execution of the aforementioned project.
OBJECTIVES OF THE CONFERENCE
It is intended to publicize the actions carried out to date by the Torrevieja City Council on the following axes:
Enhancement of existing natural resources in the municipality of the city of Torrevieja from the most scrupulous respect for environmental sustainability and even pursuing the increase of current biodiversity by promoting circular economy practices.
Promotion of Public Procurement of Innovation as a useful tool to promote economic activities with greater added value and facilitator of economic diversification, processes necessary to make the City Council, companies and the city of Torrevieja dynamic agents within the Valencian innovation ecosystem.
The conference will contribute to building a driving group for economic diversification in the city of Torrevieja, based on the triple helix model, in which institutional agents such as the City Council and the Valencian Innovation Agency (AVI), universities and technology centers interact. they contribute scientific knowledge and technology, and the private sector, concretized in companies and entrepreneurs.
Diversifying the Torrevieja economy beyond the characteristic tourist-residential monoculture was one of the conclusions of the Torrevieja Strategic Tourism Plan, which points out the opportunity to work on endogenous resources that provide Torrevieja with differentiating elements and constitute competitive advantages to attract entrepreneurial talent and generate qualified employment.