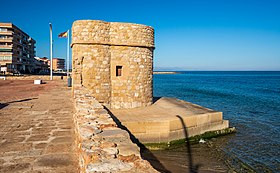 The councilor-secretary of the Local Government Board (JGL), Federico Alarcón, has reported that this morning the strategic environmental and territorial report of the specific modification of the Interior Reform Plan (PRI) in Delfín streets has been approved , de los Daneses and another to adapt the building conditions of block B of Enclave 7 to the requirements of the program of uses defined in the justifying report for the construction of the sports pavilion in this enclave of the district of La Mata.
Federico Alarcón has explained that soon a JGL will have to approve the planning document of the PRI and will submit it to public information, so that later, after the deadline for allegations, the planning document will be definitively approved in plenary session. All this, adds Alarcón, is being done hand in hand with the actions to define the execution project for the La Mata sports pavilion, the aim of which is to have it approved and the work to be carried out after next summer.
To carry out the execution of the La Mata sports pavilion, which has historically been highly demanded by its neighbors, the setbacks will be eliminated and the height will be increased by about two meters in order to generate a more ambitious project. Likewise, it is planned to increase 100% utility and go from one floor to two floors, to house sports and social equipment, with a sports court of regulatory dimensions, more stands, changing rooms, etc.