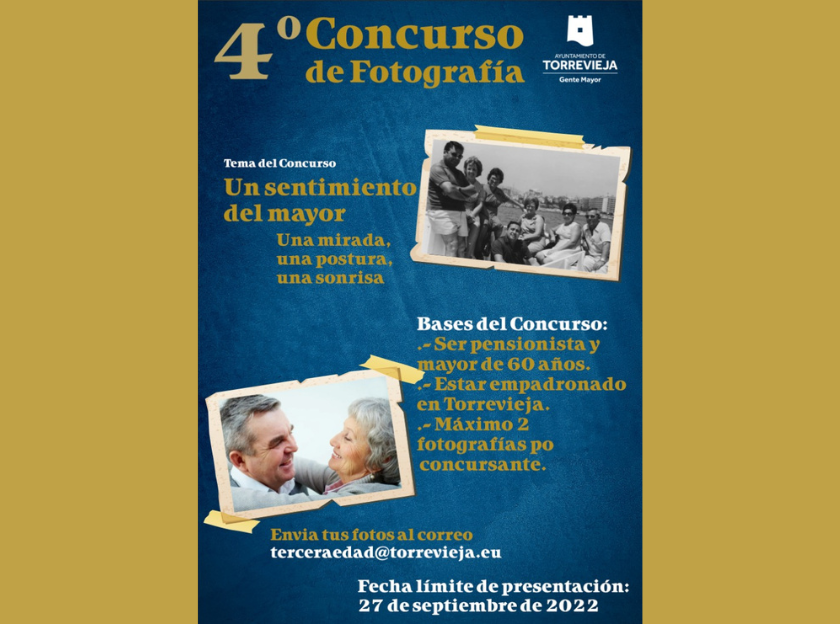 The Councilor for Elderly People of the City Council of Torrevieja, Inmaculada Montesinos, informs that the term has already been opened to participate in the 4th Tribute to the Elderly Photography Contest. The theme of the contest in this edition is "A feeling of the elder. A look, a posture, a smile."
Pensioners and those over 60 years of age, registered in Torrevieja, may participate, having to present a maximum of two photographs per contestant. The photos must be sent to the email Terceredad@torrevieja.eu , with the submission deadline being Tuesday, September 27.
Finally, Inmaculada Montesinos has informed that the award ceremony for this 4th Photography Contest will be held on Saturday, October 1, International Day for the Elderly, at a Gala at the Municipal Theater of Torrevieja, organized by the Department of Old people.
In the last edition of 2021, 30 people participated in this contest, the winners being:
1st. GRANDPARENTS IN THE SEA, by Maribel Juárez.
2nd. HELPFUL HANDS, by Pedro Gallego.
3rd. PALM TREES, of Cabalar Purification.