Display of colour, music and beauty in a spectacular parade in the heart of the capital of Spain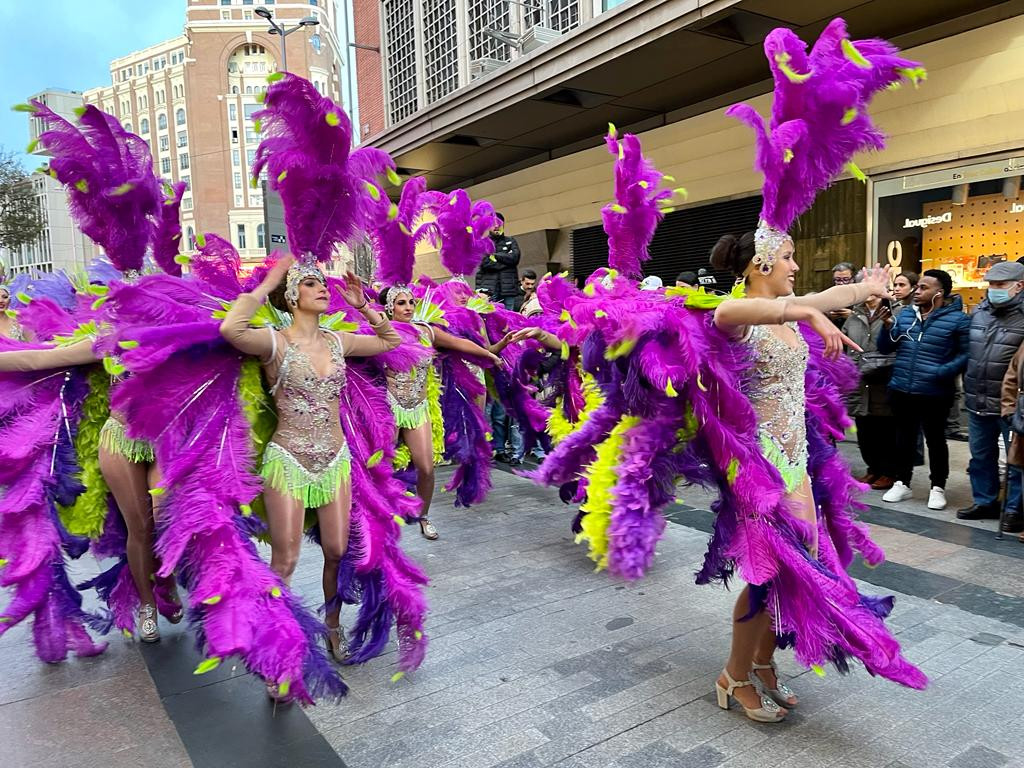 The Torrevieja Carnival has taken today Wednesday one of the main and tourist arteries of Madrid to show the world the uniqueness, color and beauty of the Torrevieja carnival, in one of the actions that is part of the Torrevieja promotion strategy coinciding with the Madrid International Tourism Fair (FITUR). A historic parade, with the participation of more than 100 people belonging to a total of 7 local comparsas, being the first time that the Torrevieja Carnival parades alone through the center of the capital of Spain.
Components of "La bufa la gamba", "Daimana", "No ni na", "Osadía", "Aquí hay tomate", "Desafío" and "La sal de Torrevieja", the latter the most international and emblematic troupe of Carnival of Torrevieja, in addition to the Queen Mayor of Carnival 2022, Brenda Rodríguez, and the Children's Queen, Triana Marín, have filled Preciados street with dance and joy this afternoon, hundreds of people being able to enjoy the parade who have immortalized this historic with their mobiles event for the city of Torrevieja.
The parade was attended by the mayor of Torrevieja, Eduardo Dolón, accompanied by the president of the Provincial Council of Alicante, Carlos Mazón, the councilor for Tourism and deputy mayor, Rosario Martínez, the mayor of Fiestas, Concha Sala, as well as members of the Association Cultural Carnival of Torrevieja, headed by its president, Francisco Pizana.
The objective of this impressive action to promote our city is to promote the local carnival in Madrid, declared of Regional Tourist Interest and one of the most popular and massive festivals in the city of salt, in which 23 comparsas and more than 1,500 people parading.
Eduardo Dolón has highlighted the spectacularity of this historic parade and the enormous acceptance it has had among the audience, who has enjoyed the beauty of all the participating comparsas. It should be noted that this has been the first of other tourism promotion actions that will be carried out on the occasion of the collaboration agreement between the Tourism departments of the Madrid City Council and Torrevieja, and which the mayors José Luis Martínez Almeida signed at FITUR 2022 and Eduardo Dolon.