A trip to Sierra Nevada, the JOOP project and Comarcón 2023, main attractions of the Winter Program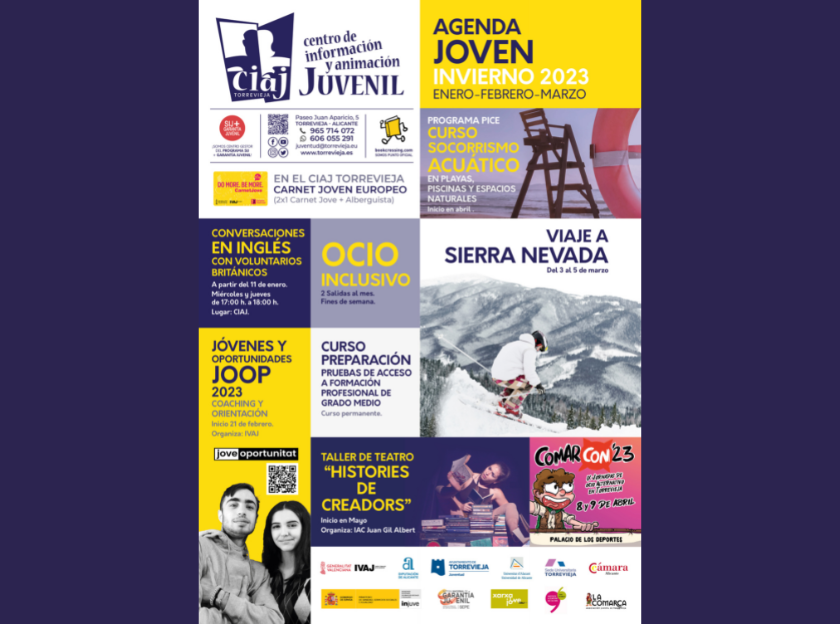 The Councilor for Youth of the Torrevieja City Council, Domingo Paredes, informs that the new Winter Youth Agenda of the Youth Information and Animation Center (CIAJ) corresponding to the first quarter of the year 2023 is now available.
Domingo Paredes has indicated that a total of 8 activities and events make up the CIAJ winter youth program, including a trip to Sierra Nevada on the weekend of March 3-5, and a preview of La Comarcón 2023 in its IX edition, which this year will be held on April 8 and 9 at the "Tavi y Carmona" Sports Palace.
Regarding training, on February 21 the Youth and Opportunities (JOOP) coaching and orientation program returns in its 7th edition, organized jointly between the Torrevieja City Council and its Youth Department and the Generalitat Valenciana, through the Valencian Youth Institute. This program is aimed at young people from Torrevieja between the ages of 16 and 21, who neither study nor work.
In addition, registrations are open for a new Aquatic Lifesaving course on beaches, swimming pools and natural spaces, which will begin in April within the PICE program (Initial Qualification Program for Employment) for young people registered in the National Youth Guarantee System.
A free course to prepare for the entrance exams to medium-level Vocational Training is also being programmed.
Likewise, the inclusive leisure outings continue twice a month, the conversations in English with volunteers and the theater workshops "Histories of creators" organized in collaboration with the Alicante Institute of Culture (IAC) Juan Gil Albert.
Finally, the Councilor for Youth recalls that for more information and registration on Youth activities, those interested can go in person to the CIAJ or find out through their social networks, telephone 965714072, WhatsApp 606055291, email juventud@torrevieja.eu and in the municipal website www.torrevieja.es.