From February 10 to 19, both inclusive, special offers will be held in businesses participating in the campaign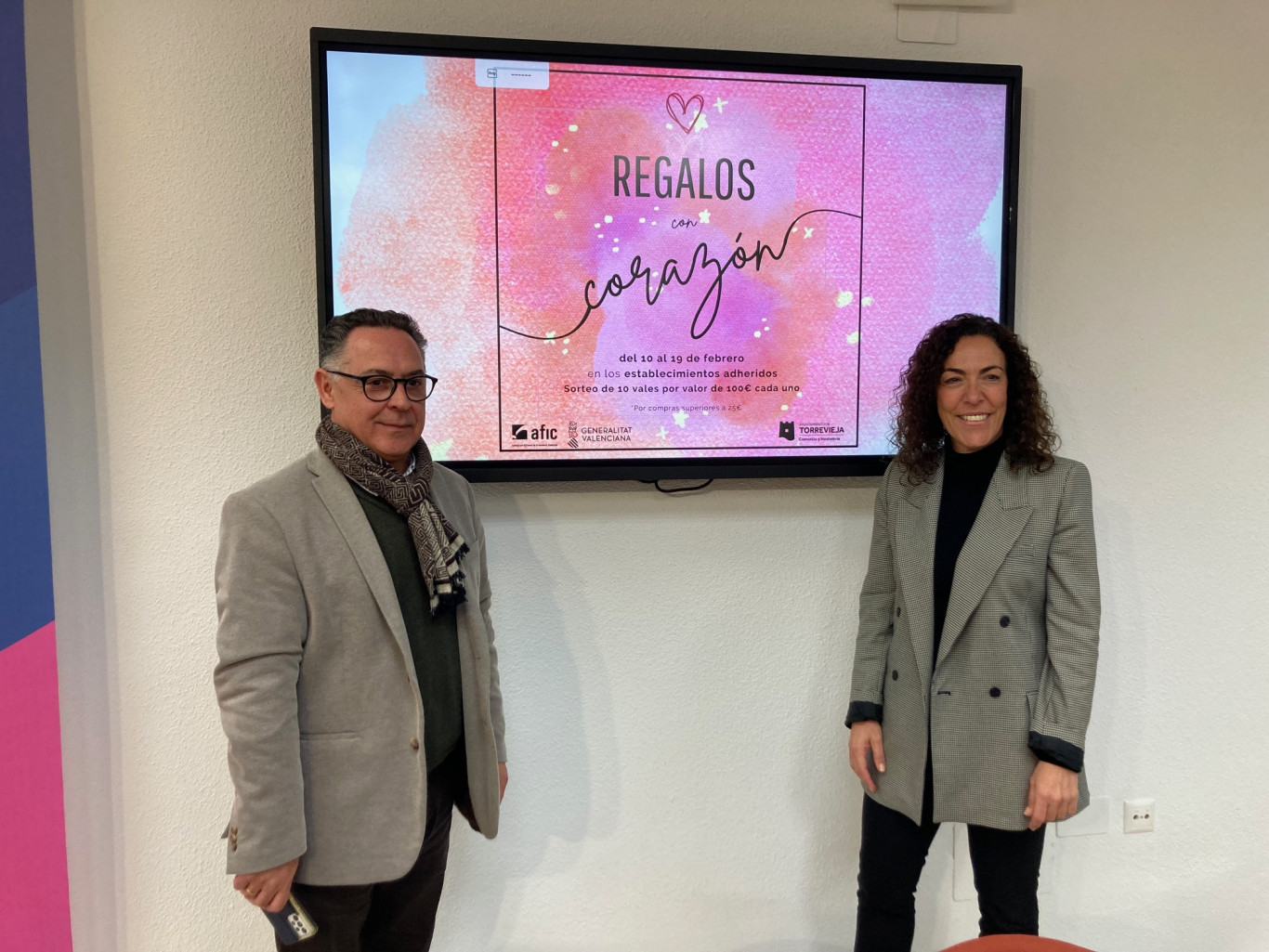 The Department of Commerce, Hospitality and Tourism of the Torrevieja City Council has presented the 2023 Valentine's Day campaign "Gifts with Heart" and "Menus that fall in love" for the eve of Valentine's Day.
The objective of the campaign is to encourage and boost commercial activity in local establishments. The businesses and restaurants registered in this campaign will carry out offers, promotions and special menus from Friday, February 10, to Sunday, February 19, both inclusive. The participating shops and restaurants will be marked with a sticker that will be placed in the window so that customers can identify them.
ADHERED BUSINESSES
The Councilor for Tourism, Commerce and Hospitality, Rosario Martínez, and the Commerce adviser, José Rubio, reported in the presentation that a total of 70 businesses have signed up for the campaign, which consists of special promotions and discounts on selected items. that will be distinguished with an identifying sticker in the shape of a heart.
In addition, for the purchase in the adhered stores you will enter the draw for 10 vouchers valued at €100 each. To qualify for the draw, purchases must be equal to or greater than €25; In the same business, a file will be filled out with the data and it will be deposited in the Trade Office, located in the La Plasa food market. The draw will be held on February 21 through the Facebook of Torrevieja Comercio, Hospitality and Industry.
MEMBER RESTAURANTS:
In total there are 10 restaurants that have signed up for the campaign to create fantastic and delicious Valentine's menus:
-HB Torrevieja
-Restaurant Jax Torrevieja
-Luz del Mar Restaurant
-Restaurant El Callejon
-Bar Taperia Los Zamoranos
-La Mar de Bien Restaurant
-Paseo Beach Restaurant
-Restaurant A Starboard Port
-Bianco Restaurant
-Dock Restaurant
All this material is available at the Office of Commerce and Occupation of Public Highways from today, Wednesday, February 9, so that businesses can dispose of it.
The list of businesses and restaurants in the campaign can be found on the official networks of the Torrevieja City Council, on the website: www.torrevieja.es and, in person, at the Trade Office.