La Comarcon 2023, an excursion to the Museum of Arts and Sciences and Oceanográfic of Valencia and the I Thematic Week of Sport and Technology, main attractions of the new youth programming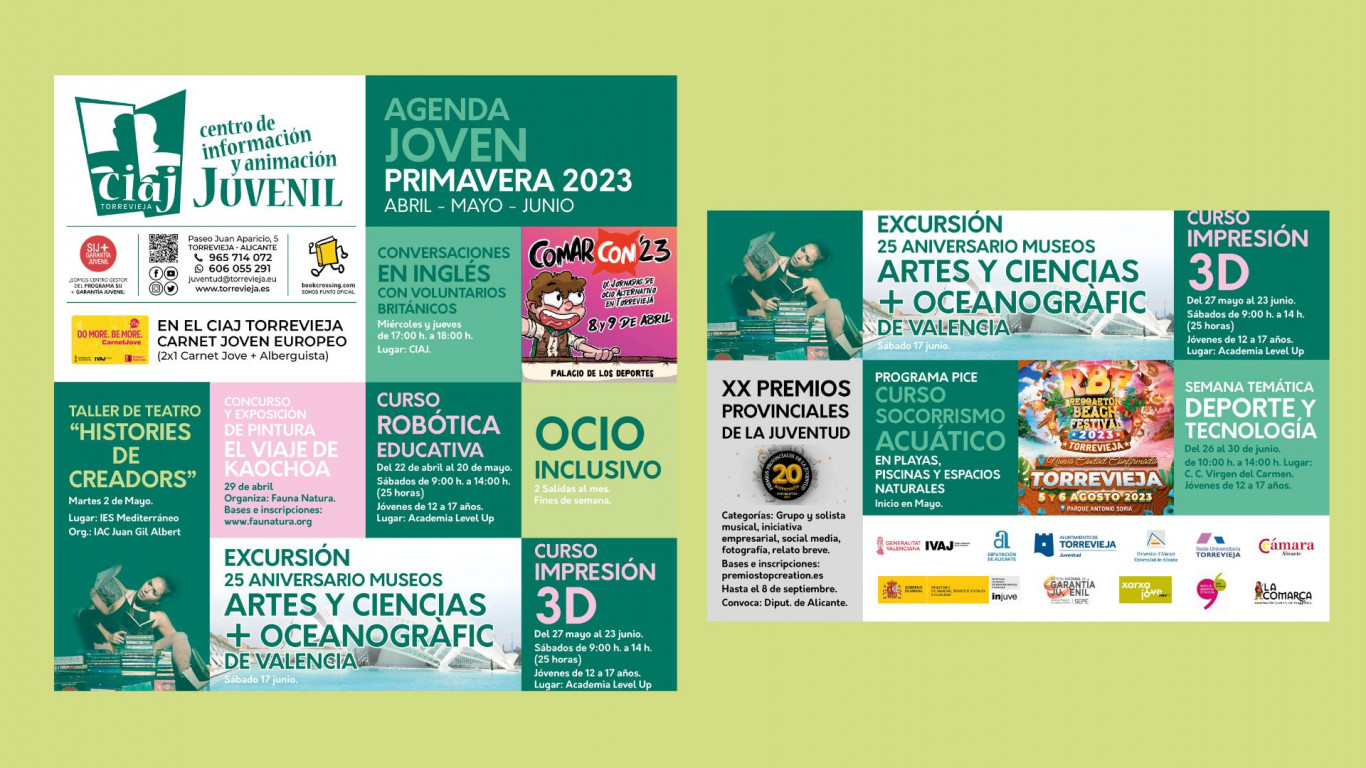 The spring agenda includes an interesting educational leisure event, the 1st Sports and Technology Week, from June 26 to 30, for teenagers from 12 to 17 years old.
The Councilor for Youth of the Torrevieja City Council, Domingo Paredes, informs that the new Spring Youth Agenda of the Youth Information and Animation Center (CIAJ) corresponding to the first quarter of the year 2023 is now available.
A total of 12 activities, courses and events make up the CIAJ spring youth program and whose main attractions will be La Comarcon 2023, alternative leisure days, which this year celebrate their IX edition, and which will be held on April 8 and 9 at the Palacio de Deportes with an uninterrupted day from 10:00 a.m. to 10:00 p.m. with the best of role-playing, board games, comics, manga, video games, cosplay, movies, etc. organized by Youth in collaboration with this Association. In addition, a visit to the Museum of Arts and Sciences and Oceanográfic has been organized on the occasion of its 25th anniversary on Saturday, June 17. An interesting educational leisure event is also included, the I Sports and Technology Week from June 26 to 30, for adolescents from 12 to 17 years old.
Domingo Paredes has indicated that in terms of training, two interesting courses on Educational Robotics and 3D Printing are offered. Enrollment is also open for a new water lifesaving course on beaches, swimming pools and natural spaces that will begin in May, within the PICE program (Initial Employment Qualification Program) for young people enrolled in the National Youth Guarantee System.
Two calls for competitions have also been organized in this spring agenda, such as the Alicante Provincial Youth Provincial Awards, which this year celebrate their XX edition with 6 categories, and an interesting painting contest "Kaochoa's trip" organized by the Fauna Natura association.
As usual in the programme, the inclusive leisure outings continue twice a month, the conversations in English with volunteers and the theater workshops "Creators' stories" organized in collaboration with the Alicante Institute of Culture (IAC) Juan Gil Albert, which will be held on May 2 at the IES Mediterráneo de Torrevieja.
Finally, the Councilor for Youth recalls that for more information and registration on Youth activities, those interested can go in person to the CIAJ, located at Paseo Juan Aparicio, nº 5, or find out through their social networks, telephone 965714072, WhatsApp 606055291 , email juventud@torrevieja.eu and on the municipal website www.torrevieja.es.