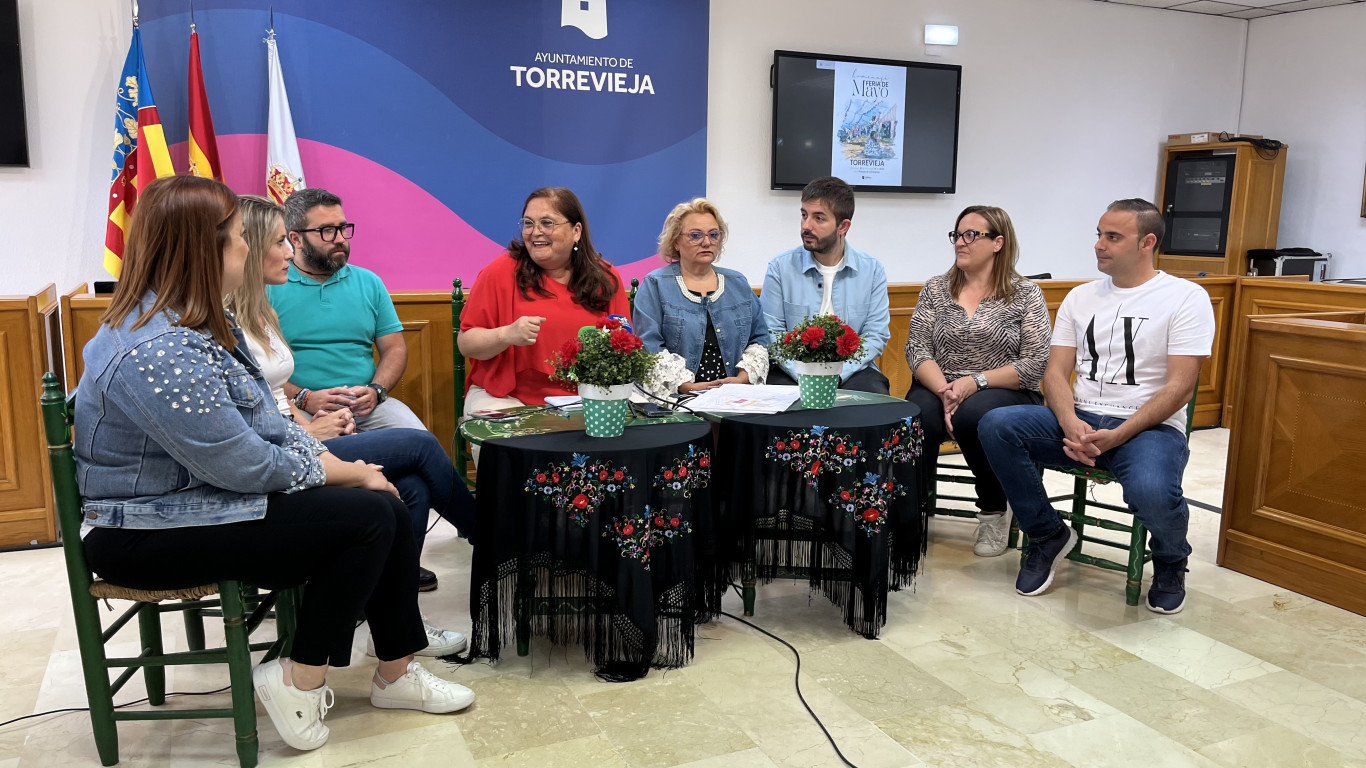 This morning, in the Plenary Hall of the Town Hall, specially decorated for fair reasons, the Tribute to the Torrevieja May Fair has been presented, which will be held from May 11 to 14 in the Parque de la Estación. The Councilor for Fiestas, Concha Sala, was accompanied by representatives of the dance academies that will offer their shows on a stage that will be set up at the fair, as well as by representatives of the 7 small booths that will also open their doors on the premises.
The mayor recalled the significant success of the May Fair in its edition last year after the pandemic and a few years in which the fair, with more than 35 years of experience, "had deteriorated in many aspects." Concha Sala pointed out that this year "given the impossibility of doing it in the port area due to the works that are being undertaken and because it is impossible to move it to another location due to the lack of the necessary infrastructure, we did not want the year to go blank and we have attended the interest of both the local booths and the dance academies and schools, winking at the May Fair".
In this sense, the Councilor for Fiestas has indicated that the Parque de la Estación will have a regulated capacity with the maximum legal capacity, it will be conditioned to house a stage for dance schools to perform their exhibitions and seven small booths, " No, not at all", "Los Justitos", "Entre Amig@s", "Amigos de la Alegría", "Las Lolas", Casa de Andalucía "Rafael Alberti" and Alimentos Solidarios Torrevieja. The park and the booths will have the same musical thread with the performance of DJs that will enhance the setting.
The program of events contemplates that at 8:30 p.m. the performances of Mery Dance Academy and Soul Dance begin. On Friday, the "Arantxa Blanco" Dance Center and the Municipal School of Dance will perform at the same time with their teacher, Nuria Girona. Also on Saturday at 8:30 p.m. the "QK" Academy and the "Paya's" Dance School will perform. The venue will open on Thursday at 7:00 p.m. and from Friday to Sunday at 12:00 p.m.
The Parque de la Estación site will have security guards, as well as volunteers from Civil Protection and the Local Police. Two ambulances will also be located permanently. Likewise, a drinking water point will be installed for the use of the booths and in the field of cleaning both waste collection and recycling will be reinforced, as well as work inside the park.
Finally, it should be noted that the Local Police have planned for those days traffic cuts around the Parque de la Estación on Avenida de la Estación (between Avda. Diego Ramírez and C/Greco) and Calle Greco (between Avda. Estación and C /Portalicos).