In this second edition, 60 scholarships will be allocated to students of Elementary Education of the Professional Conservatory of Music "Francisco Casanovas"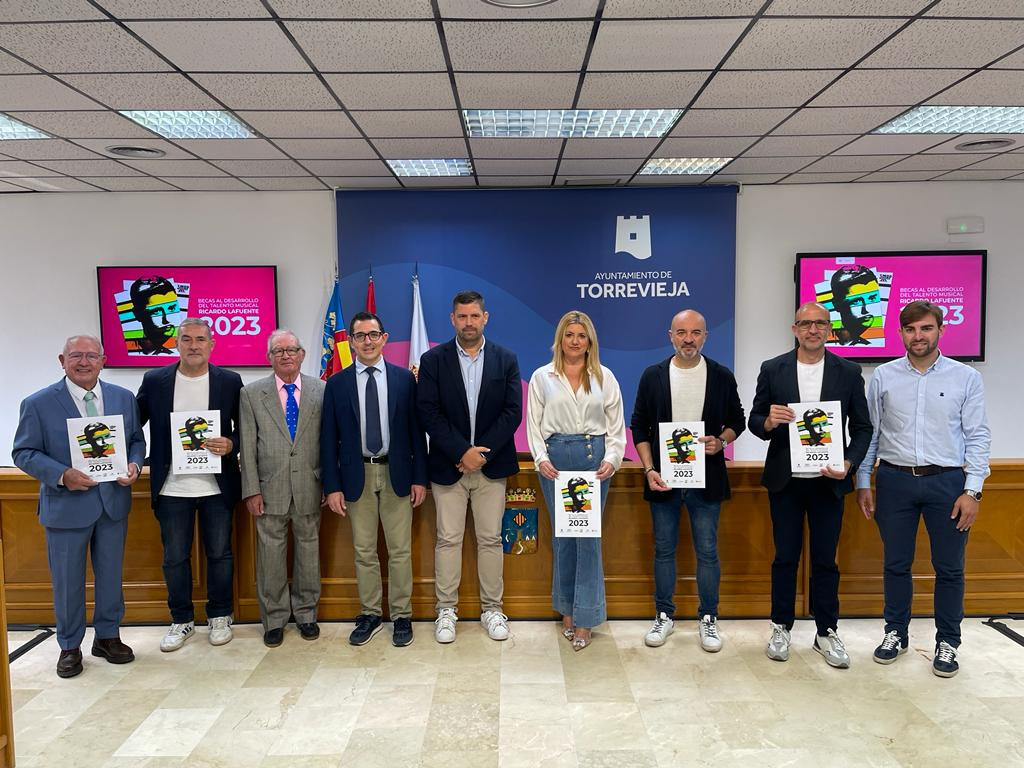 The scholarship will cover the tuition fee for the 2023/2024 academic year, as well as a batch of books for learning the subject of Musical Language belonging to the Association's book bank.
The Councilor for Education of the Torrevieja City Council, Ricardo Recuero; The Councilor for Culture, Antonio Quesada, the Artistic Director of the association and person in charge of the project, María Ortigosa and the nephews of maestro Ricardo Lafuente, Francisco and Ricardo, have presented this morning the "RICARDO LAFUENTE" SCHOLARSHIPS FOR THE DEVELOPMENT OF MUSICAL TALENT AGUADO" intended for children and young people.
A total of 60 scholarships for the 2023/2024 school year are available in this second call to cover the full amount of tuition, as well as a batch of books for the study of the subject of Musical Language. The books will be on loan since, from the Association, they aim to create the "Ricardo Lafuente Aguado" book bank to continue helping children and young people who want to learn music.
The deadlines to apply for these aids will begin from today, Thursday, June 1, until September 15. The resolution will begin on September 22 until September 28, with October 2 being the day on which the award of the scholarships will be published. The evaluation commission of the SCHOLARSHIPS FOR THE DEVELOPMENT OF MUSICAL TALENT will be made up of representatives of the 3MAP Musical Association, representatives of Maestro Ricardo Lafuente's family, a representative of the School Council of the "Francisco Casanovas" Professional Conservatory of Music and a tax advisor.
Regarding the award criteria, María Ortigosa explained that the applicant's siblings who study at the Conservatory will be taken into account, if it is a large and/or single-parent family, if the student has a disability greater than 33% and economic criteria will also be taken into account.
THE SCHOLARSHIPS FOR THE DEVELOPMENT OF MUSICAL TALENT have the support of the Departments of Education and Culture, as well as the mixed company AGAMED, CULTURA TORREVIEJA, LA CAIXA FOUNDATION AND TOLOAL SECURITY ENGINEERING. The 3MAP Musical Association aims to promote the work of Maestro Ricardo Lafuente Aguado.
In 2021 they held two concerts, one of them included in the 67th International Habaneras and Polyphony Contest held in July 2021. For this year 2023/2024 the Association continues to work on various projects, including the dissemination of the figure and work of Ricardo Lafuente in the educational centers of Torrevieja.