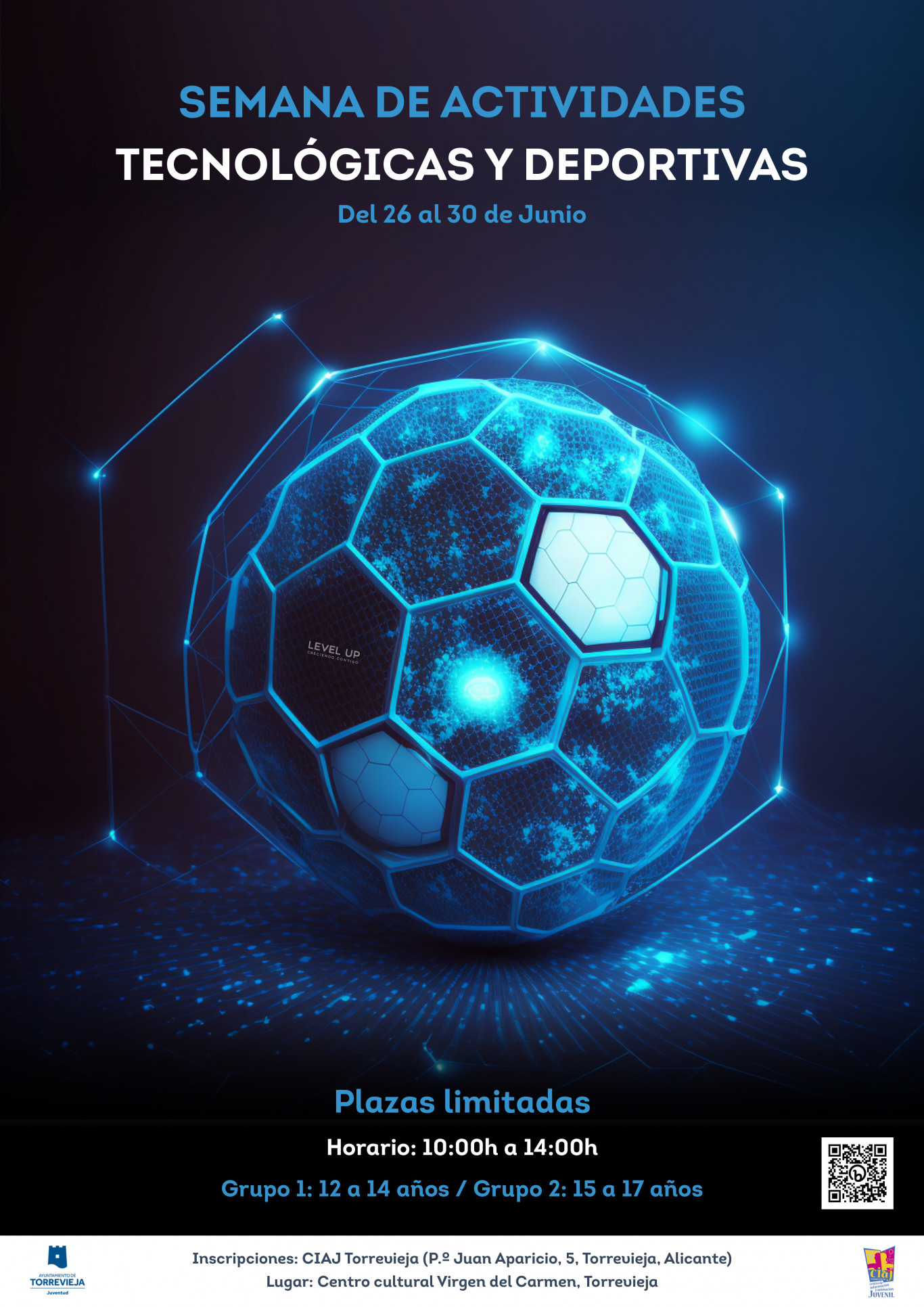 The Department of Youth of the City of Torrevieja informs that the registration period for the "Week of Technological and Sports Activities" is now open.
The activity is free for the young people of Torrevieja, and it will take place the week of June 26 to 30, from Monday to Friday, from 10:00 a.m. to 2:00 p.m. The place where the activities related to new technologies will take place will be at the Virgen del Carmen Cultural Center, and the sports activities will take place abroad. In addition, as a novelty in this course, it has been decided to form two age groups: the first group with a total of 20 places for adolescents from 12 to 14 years old born between 2011 and 2009, and a second group of 10 places for young people. from 15 to 17 years old born between 2006 and 2008.
During this special week, young people will participate in a wide variety of sports and recreational activities ranging from paddle tennis matches to exciting paddle surfing adventures on the beach, where they can experience the excitement of water sports. In addition, they will also practice other sports on the beach, such as beach volleyball, beach soccer and frisbee, promoting teamwork among the participants.
At the same time, the participants will also have the opportunity to delve into the world of technology and innovation. They will learn about robotics, where they will be able to build and program robots to perform different tasks and challenges. In addition, they will have programming classes, where they can develop their skills in the field of coding and creating applications. 3D printing will also be part of the experience, allowing students to bring their own designs to life and create three-dimensional objects. And to immerse themselves in amazing virtual worlds, they will be given the opportunity to explore virtual reality, where they will be able to live immersive and educational experiences.
This special week aims to provide students with a comprehensive experience, combining physical activity and technological learning in a fun and dynamic way. Teamwork, sportsmanship and creativity will be promoted, while interest in technology and innovation will be encouraged.
Registration will be open from today, Monday, June 12, to Wednesday, June 21, and will be made through the Electronic Office of the City Council in the Education, Culture and Sports section, where registrations for Youth Activities and Courses are located. , or through the following direct link: https://torrevieja.sedelectronica.es/dossier.3.
Places are limited and will be granted in strict order of entry into the General Registry. In the event that the applications exceed the number of places available, a raffle will be held for them.
For more information, those interested can go in person to the CIAJ Youth Information Center, located at Paseo Juan Aparicio, nº 5, or find out by calling 965.714.072, on their social networks @torreviejajuventud on Instagram or Facebook, whatsapp 606.055. 291, email juventud@torrevieja.eu or on the municipal website www.torrevieja.es.