The Headquarters will give a webinar next Friday as an introduction to the course that will be taught from February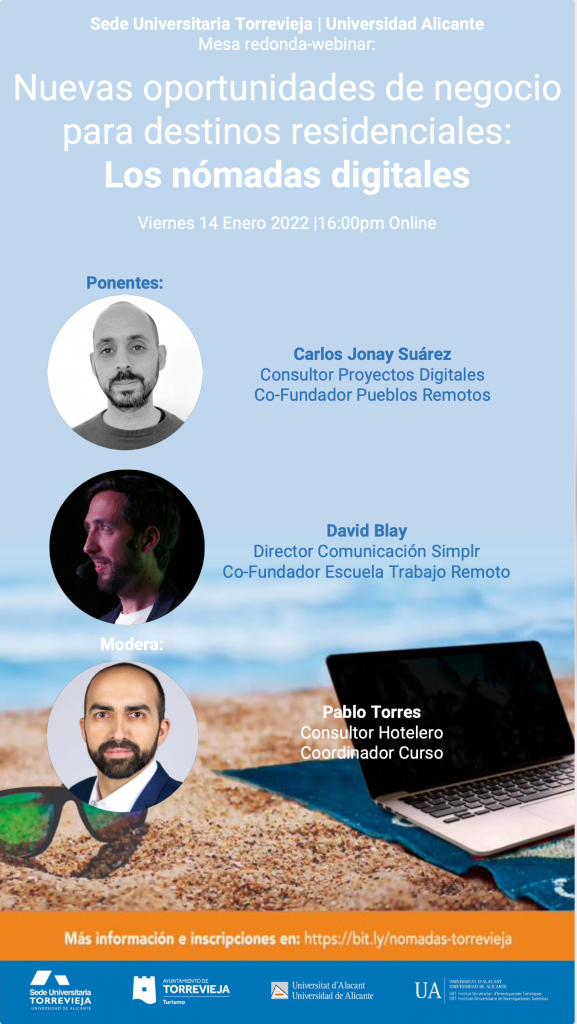 The Torrevieja University Venue will give next Friday, January 14, at 4:00 p.m., a round table with webinar format, with digital nomads as protagonists, in which it will analyze the new business opportunities that they open for residential destinations .
The webinar will feature three speakers: Carlos Jonay, digital projects consultant and co-founder of Pueblos remotos; David Blay, director of Communication Simplr and co-founder of Escuela Trabajo Remotos; and Pablo Torres, hotel consultant and coordinator of the course that, with the same central theme, will teach the headquarters from next February. The organizers explain that "more and more professionals have the option of working remotely. There are those who choose a new destination permanently. Others, however, prefer to change their destination from time to time. They are the so-called digital nomads ". The webinar will address how Spain prepares changes in legislation to facilitate the settlement of digital nomads, so "now is the perfect time to start considering how to attract this type of profiles, usually with high purchasing power, to our destinations" . More information and registration at: https://zoom.us/webinar/register/WN_h3QF7TpCTI2hvwqrDDJaQg Friday's appointment will be the preamble to the course "New business opportunities for residential destinations: digital nomads", which will begin on February 11 , jointly organized by the University Institute of Tourism Research (IUIT), the Department of Tourism of the Torrevieja City Council and the University Laboratory of Intelligent Tourism of the UA Headquarters in Torrevieja. This training is part of the "startups" bill that includes measures to favor the establishment in Spain of digital nomads, for example, allowing residence for 5 years with a special tax regime. Divided into eight sessions and lasting 40 hours, the main objective of the course is to analyze the recent evolution of tourist activity, characterize residential destinations and, in this context, understand the particularities of this new demand profile, its suitability for residential destinations and the strategies necessary to attract them, from a public-private perspective. The registration period is open until February 9. The general fee for the course is 120 euros, but the unemployed and members of Alumni UA have a 50% discount. Current students at the University of Alicante and professional training students have a reduced rate of € 20. More information: https://bit.ly/3HRgjZu.