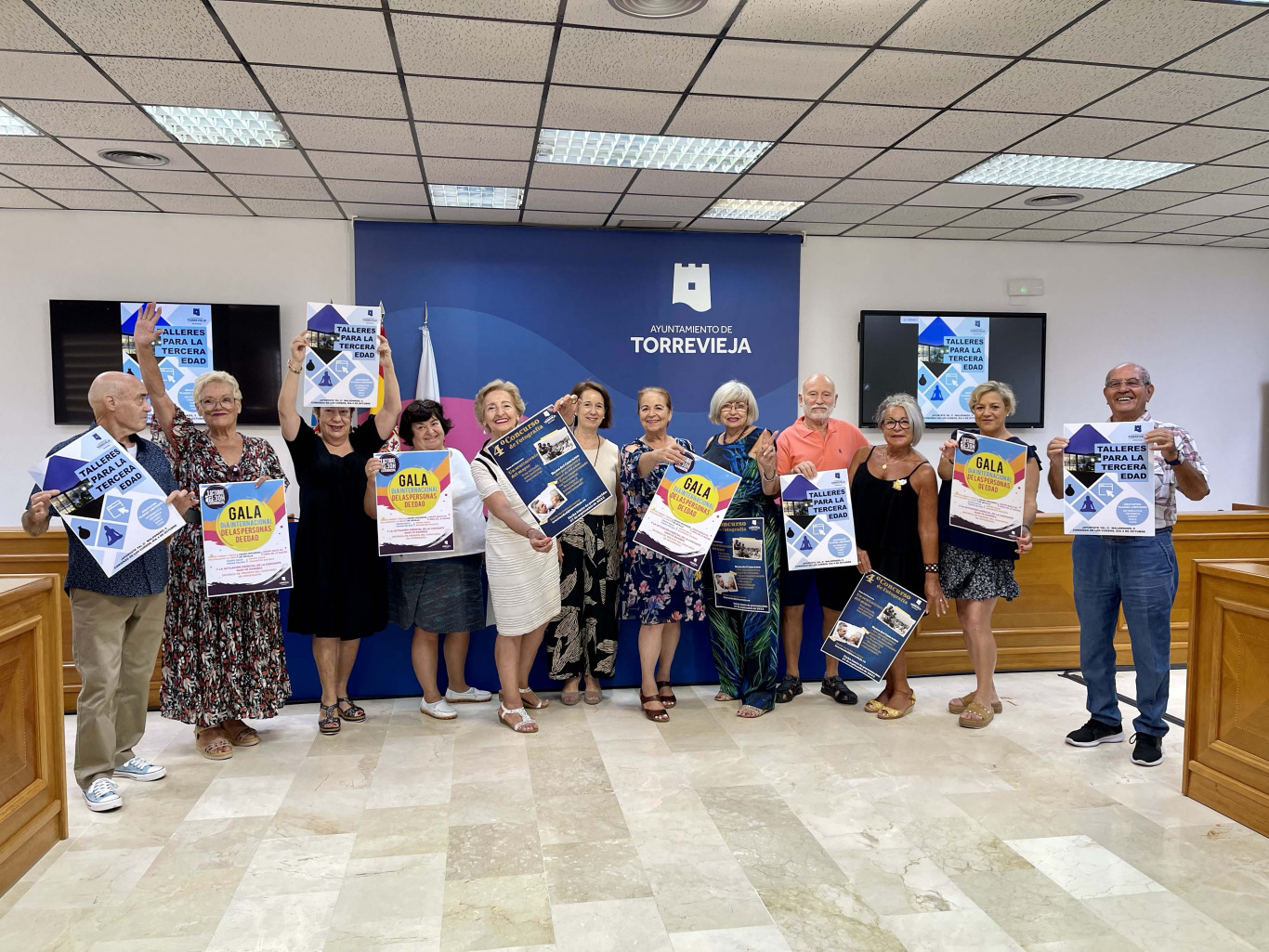 Admission is free and invitations can be collected at the Department for the Elderly, located at Calle Maldonado, nº 5 On September 30, the Day of Coexistence will take place with various activities and a popular paella in the Parque de las Naciones The Councilor for Gente Mayor, Inmaculada Montesinos, has also presented the workshops on dance, ceramics, yoga, computers and tortoiseshell, which will begin on Tuesday, October 4
The Councilor for Elderly People of the City Council of Torrevieja, Inmaculada Montesinos, accompanied by the president of the House for the Third Age of the Acequión "Restituto Marroquí", Alejandra Carricondo; the president of the Multipurpose Center of La Mata, Miguel Rueda; and the president of the home for the elderly of San Pascual, Florencia Soria, have presented today the activities that will be held on Saturday, October 1, on the occasion of the International Day of the Elderly, as well as the Activity workshops for the elderly that will begin on October 4.
Next Saturday, October 1, starting at 6:30 p.m., the Gala will take place at the Municipal Theater of Torrevieja on the occasion of the International Day of the Elderly, with the participation of the groups Sabor y Baile, Rocieros de Seville, line dance by the Macro, Tomás Pelaéz dance, Amanecer Rociero dance and a special performance by the singer Mari Fé Ramírez. During this act, the prizes of the Photography Contest organized by the Department for the Elderly will be presented, as well as the delivery of plaques to the greatest honorees.
Inmaculada Montesinos has recalled that next Tuesday, September 27, the deadline for submitting the images of this contest ends. In order to attend, it is necessary to collect the free invitations that are available at the Department for the Elderly.
On Friday, September 30, in the Parque de las Naciones, a coexistence of the elderly will take place that will begin with Zumba workshops, line dancing and will continue with the tasting of a paella for all those who participate in the day. For the tasting of the paella it will be necessary to collect the corresponding ticket at the offices of the council at Calle Maldonado nº5 or at the houses for the Third Age. On October 5, from 6:00 p.m., and included in the activities commemorating the International Day of the Elderly, a day of activities and a musical performance will be held in the Encarnación Puchol de La Mata square at 7:00 p.m.
OPEN THE REGISTRATION PERIOD FOR THE COURSES OF THE DEPARTMENT OF THE THIRD AGE
Inmaculada Montesinos has also reported that the registration period has already opened for the activity courses that are being developed from the council that she directs, and that they are the following:
Dance
Ceramics
Yoga
Computing
Tortoiseshell
All older people who are interested in participating must register at the Senior People office. The courses are free and will begin next Tuesday, October 4.