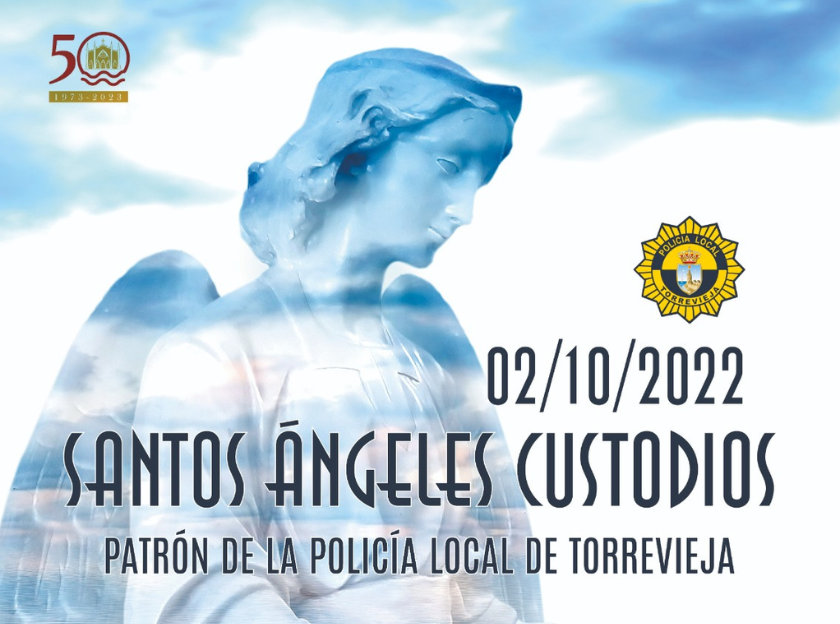 The Councilor for Security and Emergencies of the Torrevieja City Council, Federico Alarcón, informs that this coming Sunday, October 2, the feast of the Holy Guardian Angels, patron saint of the Local Police, a mass will be celebrated in the Parish of the Sacred Heart of Jesus, at 10:00 am, offered by all the deceased of the Local Police. The mass will include the participation of the Francisco Vallejos Torrevejense choir and the Torrevejense Musical Union (UMT).
As this year commemorates the 50th anniversary of the Sacred Heart Parish, whose acts begin on Sunday, October 2, it has been decided that the mass be celebrated there for this reason.
During the course of the ceremony, the response for the deceased will be held, where a laurel wreath will be placed at the foot of the image of the Angel, while the March "Death is not the end" sounds, ending the celebration with the anthem of the Local Police of Torrevieja.
Next, at 11:30 a.m., in the main hall of the Casino Cultural Society of Torrevieja, the award ceremony and merits to the members of the Local Police will take place, an act that will be chaired by the mayor of the city, Eduardo Dolon. A total of 144 agents will be recognized in this act.
-Acknowledgments to the 9 agents who have recently joined.
-Public congratulations to the Civil Protection Merit awarded by the Generalitat Valenciana to 13 local police officers, for various heroic actions.
-Delivery of Police Merit Medals (Balmis) for the pandemic, individually, to 106 agents of the local police force.
To end the act, the 9 officers who have served the local police of Torrevieja for 30 years, the 4 who have served 35 years, and the 3 officers who have retired in the last year will be recognized.