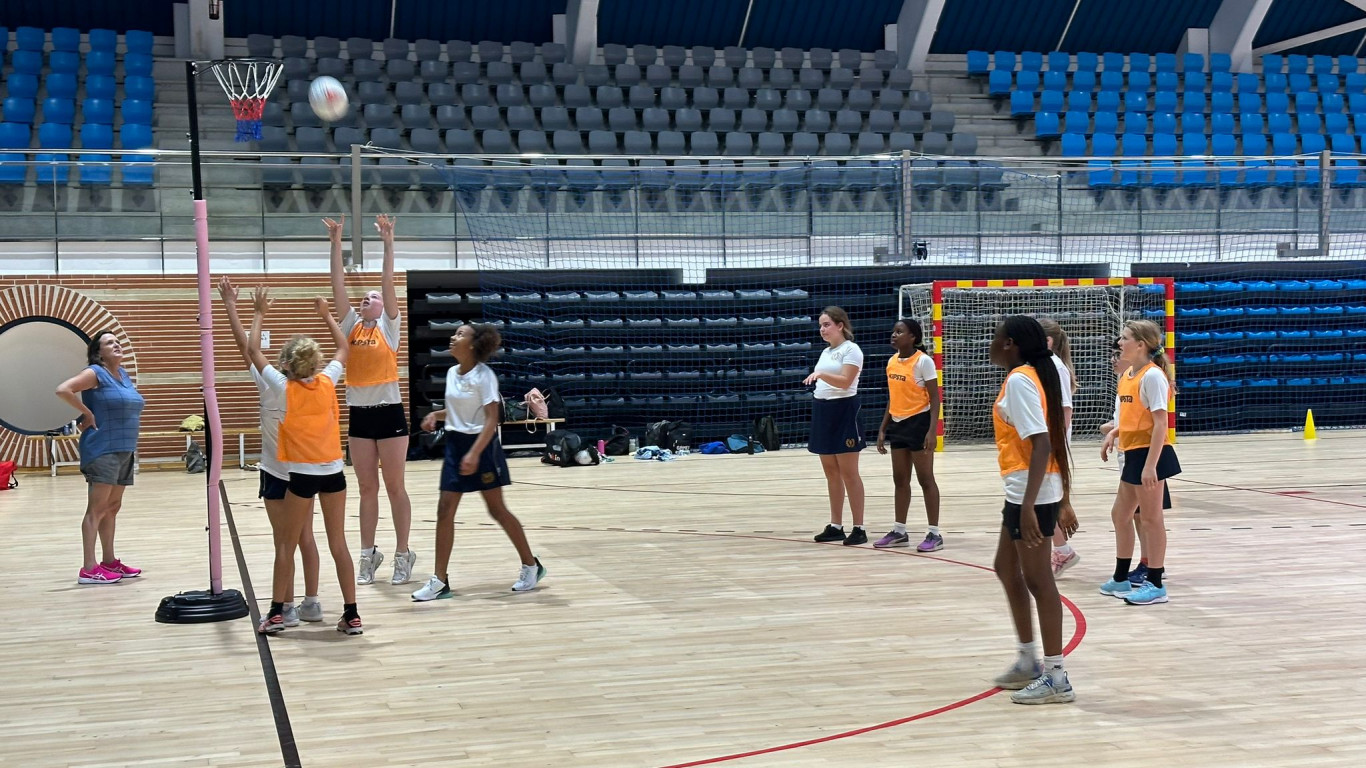 The Councilor for Sports of the City Council of Torrevieja, Diana Box, reports that between Monday and Wednesday, October 26, the Sports City hosts a group of 262 girls and boys Netball players. A campus that has been possible thanks to the collaboration between the Department of Sports Tourism of the Department of Sports and the Vision in Education Travel Agency, an agency that has a presence in America, Europe and Africa, with student trips and Sports Tourism competitions. [U1] .
It is not the first time that Visions in Education comes to Torrevieja with sports groups. The first took place in 2019, and at that time, and thanks to the collaboration of the entities involved, it was a complete success and 100 athletes from this unknown sport were welcomed in Spain.
Netball is known for being the sport that more women have played historically, although it is now opening up to mixed teams. It is played all over the world and is much more popular in the Commonwealth countries. In Spain it is a practically unknown sport. Netball , literally translated into Spanish "net ball", is a basket sport, derived from basketball.
On this occasion Visions in Education and the Department of Sports, also in collaboration with the receptive travel agency AthletiQ Finland, have managed to organize three days of training, ending with a tournament played by eight clubs and schools from different countries of origin.
These are the training centers that will be part of this experience:
- Harrogates Ladies
- Adcote School
- Aspire Netball
- KTK Netball (South Africa)
- Berkhamstead
- St Christopher
-Westfield School
- BuryGrammar
To all this we add the direction of this event that is in charge of Vicki Wilson, international netball icon. She was the most capped national player and the captain of the Australian Diamonds, a team with which she managed to win countless consecutive championships and gold medals at the World Cup and Commonwealth games.
In Spain this week, Vicki Wilson is leading a UK school Netball programme, working with British coaches and students as well as a group from South Africa.
Finally, it should be noted that after the tough stage of Covid, the demand is very high and Spain is an exciting destination with excellent facilities and especially Torrevieja, which has worked hard to be able to host this experience with almost 300 Netball players during this week. .
Netball activities schedule 24-25 and 26 October 2022:
Monday 10/24/22
training
10:00 a.m. to 12:00 p.m. and 2:00 p.m. to 4:00 p.m.
Tuesday 10/24/22
training
10:00 a.m. to 12:00 p.m. and 2:00 p.m. to 4:00 p.m.
Wednesday 10/26/22
Netball tournament between the participating teams.
10:00 a.m. to 12:30 p.m. and 1:45 p.m. to 4:15 p.m.
From the Department of Sports they inform us that the best time to make a photographic report or record images is on Wednesday, October 26, at around 12:00 p.m., since after the morning session a photo of the entire group will be taken. cluster.