10 years later the great musical productions return to the municipal theater of Torrevieja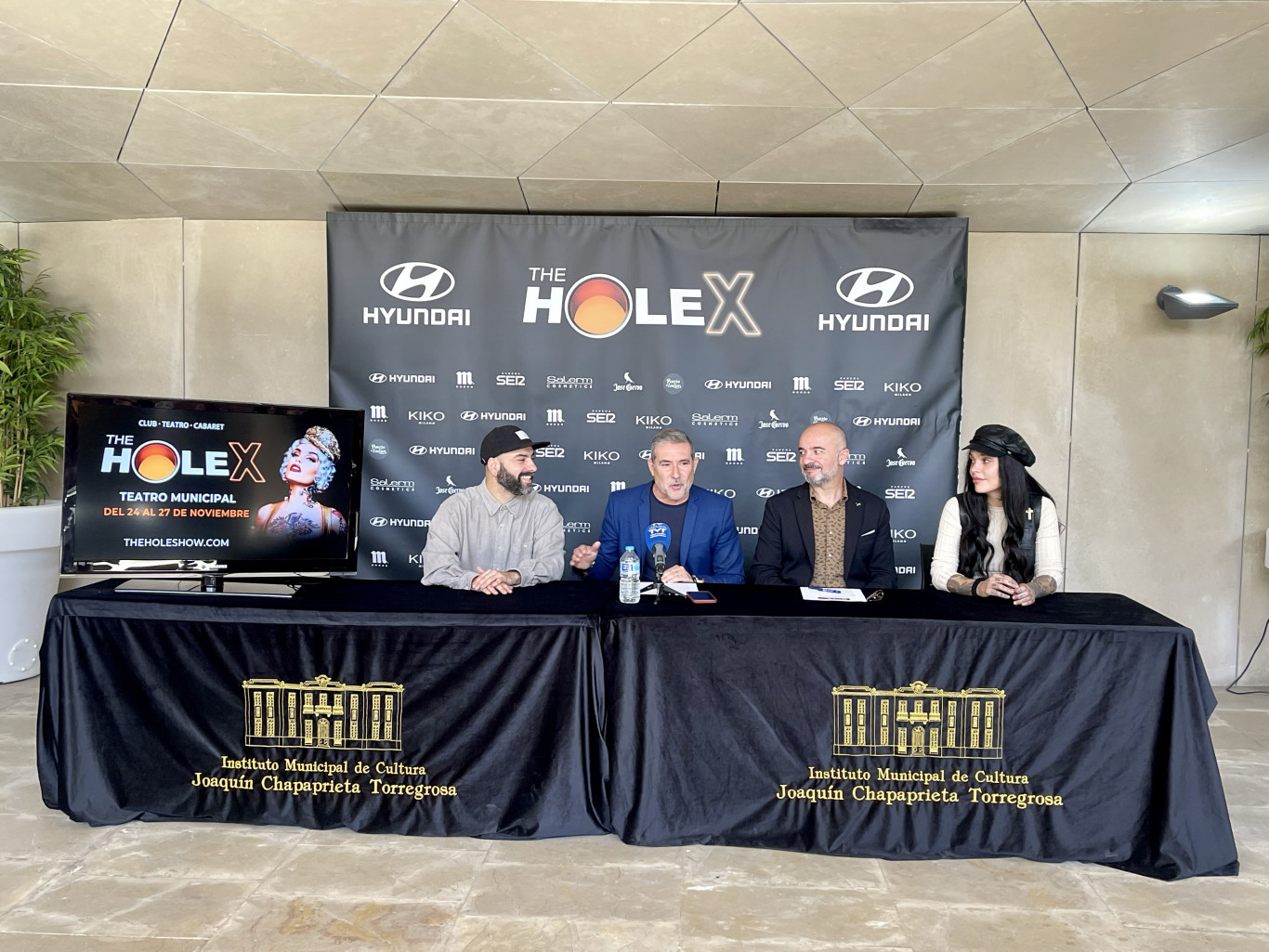 Tickets for today's premiere, Thursday, November 24, are already sold out. The actors Canco Rodríguez and Eva Isanta will act as masters of ceremonies in the Torrevieja performances
The Councilor for Culture, Antonio Quesada, and Lalo Díaz, director of Torrevieja Cultura, together with Julio Bellido and Vinila Von Bismarck, representatives of the production and members of the cast, have presented this morning, November 24, at the ambigú of the Municipal Theater of Torrevieja the musical "The Hole X".
The great musicals return to the Torrevieja Theater with "The Hole X", a production with twelve years in the best theaters throughout the national territory, which this time celebrates its tenth anniversary. The musical show will have six sessions in Torrevieja from today, November 24, until next Sunday, November 27. The shows on Friday and Saturday will have a double session, the first at 6:00 p.m. and the second at 9:30 p.m.
The Councilor for Culture, Antonio Quesada, stressed that "after 10 years the great musicals return to our theatre, with several sold-out sessions, thus recovering the most successful nationally recognized productions." As representatives of the musical have pointed out, no two The Hole shows are the same. "In each city, the masters of ceremonies change to always show the essence of the show and, if you see the show in another city, it is different from the one you have seen before."
The saga "The Hole X" has as its premise that "you have to be in the hole to get out of the hole". On this anniversary they return to the original essence of the show that will not leave any spectator indifferent. A team of 98 professionals including actors and technicians has moved to Torrevieja and the actors Canco Rodríguez and Eva Isanta will act as masters of ceremonies.
This new show is directed by Gabriel Chamé, with Alex O'Dogherty as the author of the texts and stage director of the masters of ceremonies, Guillermo Weickert in the choreography, Marc Álvarez in the musical direction and José Luis Sixto Rodriguez as assistant of direction. Canco Rodríguez will serve as master of ceremonies today, Thursday, November 24, and tomorrow, Friday, November 25, while Eva Isanta will do so on Saturday, November 26, and Sunday, November 27. The cast of the show is completed by: Vinila Von Bismark, who plays Generala, Josse Zandoval as the Crazy Pony and Coral Quiñones and Mónica Riba as the Powerpuff Girls; Julio Bellido is Almon; Oleg Tatarynov is the commander and performs the Air Pole number. Edgar López, Arnau Lobo, Omar Antxundia and Fran Velázquez are the butlers; Donet Collazo is Super Gold, Maru Limeres and Tamar Vela are the X Girls and Dias Brothers are the Icarios and Carlo and Úrsula as Duo Roller.