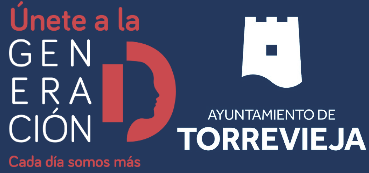 The next days April 1, 3 and 4, 2023 the traveling space "Join the 'Generation D', every day we are more" will visit Torrevieja and we want to invite you to participate.
Internet search engines, social networks, cybersecurity, online procedures... Digitization is part of everyday life. For this reason, this experience offers users a multitude of resources and guidance for the simple development of their digital skills, applicable to all areas of daily life.
What activities are carried out?
The mobile unit is equipped with immersive technology that invites you to participate in a series of practical activities to promote and encourage the development of digital skills. An experience that will adjust to the needs of each user.
We will start with a self-diagnostic test that will allow us to know your level in digital skills. With the results, we will personalize the experience and offer you a multitude of courses, training sessions or workshops with which to develop and strengthen your knowledge.
Test yourself! With the result of the test, you will face the most varied games and activities at all levels: from learning how to perform an optimal search on the Internet to avoiding "fake news", optimizing the use of your social networks or managing your digital identity.
In addition, you can participate in our escape room . An immersive activity in which users will have to put what they have learned into practice if they want to solve the game and get out of the room.
The best of all? That all activities give points! Add yours and get your town to occupy the number one position in the general ranking of municipalities in Spain. Whoever gets the most points... will have a prize!
Who is it for?
The workshops, games and activities are designed for all citizens to participate in the experience, with special attention to the unemployed, women over 45, seniors... We want to break the digital divide! The experience is completely FREE and lasts approximately 30 - 40 minutes.